Anthony Smith, President
Eric Brose, Vice President
David Mayotte CPA, Treasurer
Angela Knapton, Clerk
Bruce Bursten
Kirk A. Carter, Esq.
Mary Fletcher
Alvin Gomez
Aldo Garcia Guevara
Emily G. Holdstein
Bonnie Johnson
Christine Keller
Alice Lambert
Jeffrey Levine
Meredith Lord
Cynthia Pitcher
Kenneth D. Prince
Joel Popkin, M.D.
Kathleen Rooney
Bob Sorrenti
Wakana Suzuki
Virginia M. Vaughan, Ph.D.
Patricia Verderese
Karen-Louise Walker, Th.D
Margaret Wong
To Our Readers,
What a blur these past few seasons have been for Music Worcester. We've swung from sold-out performances with Yo-Yo Ma and Wynton Marsalis in 2019 and 2020, to completely virtual presentations over the 2020–2021 season launched by Joshua Bell, and then to months of distanced seating and public health mandates in effect for the 2021–2022 schedule, led by a double concert weekend with Itzhak Perlman.
Thank you for remaining with us during these periods of oscillating operations and thank you especially for rejoining Music Worcester as we solidify our move to full-year operations with our Summer@MW series. The organization could not have continued its concert presentations, retained staff, or maintained robust activity contracting internationally renowned artists and ensembles without the extraordinary philanthropy of so many donors and area charitable foundations. I wish to express particular gratitude to immediate Past-President of the Board Bob Sorrenti and Treasurer David Mayotte who helped steer Music Worcester through this unprecedented period. Without their encouragement and enthusiasm, we could not convey so many items of interest in this newsletter.
Adrien C. Finlay
Music Worcester Executive Director
Endowed by the McDonough Charitable Foundation
Become a Donor
Giving and renewing online has never been easier! For those who wish to show their commitment on a consistent basis, or want to break up a larger gift, the sustained giving option is for you. Whatever your preference—a one-time gift, or a monthly or quarterly donation, your credit card will deduct it automatically. Become a sustaining donor today!
VIJAY GUPTA, VIOLINIST AND HUMANITARIAN
By Adrien C. Finlay
Music Worcester's Artist-in-Residence program first surfaced as an idea in 2017. I was chatting with pianist Simone Dinnerstein about future engagements, and she mentioned an interest in further developing a concept she had started with an orchestra—one where she used the music of Schumann, Bach, Satie, and others to join together teaching of melody, harmony, and musical patterns with that of shapes and beginning geometry—for elementary schools.
The inaugural educational residency in 2018–2019, where Simone adopted grade-four and -five classrooms at five area elementary schools, came directly from this conversation. It also set Music Worcester on a new path, where we started to think through expanded possibilities of our own community engagement work that was not solely based on one-off school visits or masterclass coaching sessions by artists performing on our main series who might find themselves in Worcester for a day but not much more.
While the pandemic caused a delay in conversations with violinist Vijay Gupta, he quickly became the only possible choice for the second residency. His story is beyond fascinating, being a child prodigy taking lessons at Juilliard and finishing an undergraduate science degree at age nineteen. His musical career is also quite unusual, as he won a highly coveted spot in the LA Philharmonic first violin section, but left the orchestra several years ago to focus on what has become his passion, building community through music. His reputation grew significantly with his selection as a MacArthur Foundation "Genius Grant" recipient in 2018.
And it is indeed what his passion has blossomed into that made him a natural choice for Music Worcester's Artist-in-Residence. He founded and leads Street Symphony in Los Angeles, a program that serves those struggling with homelessness and former incarceration in and around Skid Row through opportunities and social connection created with music.
His unique perspective as a musiciancitizen of the world, familiar with the most celebrated concert halls worldwide but personally dedicated to using his musical gifts to assist under-resourced populations, is one that has completely informed his year with Music Worcester. He'll be working with the Worcester Youth Orchestra and has already visited Burncoat Arts Magnet School's orchestra program several times. He's also started working with a songwriting program, OpporTUNEity at the Worcester County House of Corrections. In spring 2023, he will seek out connections with area human service organizations for his personal involvement this fall when he returns. These connections are in addition to four public events for Music Worcester audiences that began on March 2 at the new Prior Performing Arts Center at Holy Cross. I sincerely hope that you will experience Vijay Gupta's artistry with me on May 10 at Mechanics Hall.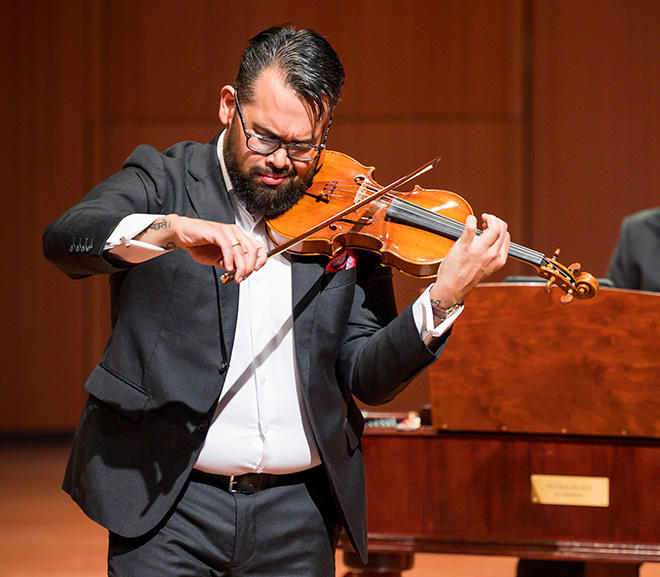 VIJAY GUPTA'S PRESENCE IN WORCESTER THROUGH 2023 HAS INTRODUCED MUSIC WORCESTER TO NEW RESIDENCY PARTNERS, MANY OF WHOM ARE FIRST-TIME CONNECTIONS FOR THE ORGANIZATION.
ARTIST-IN-RESIDENCE VIJAY GUPTA IN RECITAL
MAY 10, 2023 @ 7:00 PM | MECHANICS HALL
2023 RESIDENCY PARTNERSHIPS
Artist-in-Residence Vijay Gupta will be part of a deep partnership with OpperTUNEity for a weekly songwriting workshop, both in-person and virtually, with currently incarcerated individuals at the Worcester County House of Corrections (WCHC). Songs from current and past workshops will be performed by Vijay throughout the year. The first residency performance, on March 2, featured John Wayne Cormier, Jr., a graduate of the OpporTUNEity program while he was at WCHC.
Vijay will perform in-person as well as via live stream at the Worcester County Jail and House of Corrections throughout the year. He will mentor current students in the class throughout 2023, and perform with them at the end of each semester.
Vijay's partners and partnerships also include:
• Cimbalom artist Chester Englander and The College of the Holy Cross. Vijay and Chester led masterclasses and coached sessions with student ensembles, and performed at the Prior Performing Arts Center last month.
• The Worcester Public Schools, to speak with students, take part in masterclasses, perform, coach and more.
• The Worcester Youth Orchestra, to celebrate its 75th anniversary on May 21, 2023. Vijay will lead coaching sessions and appear as a special guest.
• Dr. Chris Shepard and The Worcester Chorus, to perform the Bach Magnificat as well as Reena Esmail's This Love Between Us, at Mechanics Hall on November 10, 2023.
• Serving as a coach for the spring 2023 Music Worcester Young Artist Competition (YAC).
• Worcester Arts and Music Police Partnership (AAMP), to make music on campus with participants as well as invite youth to participate in his residency performances.
MUSIC WORCESTER HELPS COMMISSION DANCE THEATRE OF HARLEM'S NEWEST WORK
DANCE THEATRE OF HARLEM
SOUNDS OF HAZEL
THU, MAY 4 AT 7:30 PM
THE HANOVER THEATRE
May 4 at The Hanover Theatre will not only mark the return of Dance Theatre of Harlem to Worcester, following their successful fall 2019 appearance, but will also feature a new work co-commissioned by Music Worcester. Sounds of Hazel, a new ballet celebrating the legacy of the trail-blazing jazz musician Hazel Scott, brings together Washington Performing Arts (Washington, DC), Gaillard Center and International African American Museum (Charleston, SC), Seattle Theatre Group (Seattle, WA), and Music Worcester as a commissioning consortium, with additional creative support by the Chautauqua Institution (Chautauqua, NY) and the Hopkins Center for the Arts at Dartmouth College (Hanover, NH).
In the upcoming weeks a series of virtual talks will be released by Music Worcester to encourage attendees, and indeed all supporters, to learn about the incredible life of Hazel Scott. Accepted to Juilliard at age eight, sought after as a leading pianist and singer when still in high school, and host of her own radio and television shows over her storied career in addition to notable film appearances, her musical gifts remain practically unrivaled. When factoring in her life-long dedication to civil rights, refusal to perform for segregated audiences, and attacks from the House Un-American Activities Committee, Hazel Scott's inspiring legacy becomes a barrier-breaking and genredefying one with which we all should be more familiar.