Residency
2018-2019 Artist-in-Residence: Simone Dinnerstein
Since 2012, Music Worcester has significantly increased its community engagement and educational programming to include visiting artist masterclasses and week-long residencies at Worcester Public Schools, as well as free admission to its performances through our Tickets to Opportunity Program.
Since our 2013-2014 Concert Season, widely sought-after pianist Simone Dinnerstein has been central to these efforts through her Bach-Packing To School program, in conjunction with her multiple recitals and performances in Worcester. She has performed in three historic venues, offered two rounds of educational programming at both college and youth levels, and helped make our 2016 free presentation of The Havana Lyceum Orchestra's Mozart in Havana program possible.
In planning for Music Worcester's 160th anniversary year, and due in great part to the strong relationship between the organization and pianist, Music Worcester approached Simone Dinnerstein to serve as its first ever concert season artist-in-residence.
Throughout Music Worcester's 2018-2019 Concert Season, Dinnerstein delivered a series of recitals and orchestral concerto performances, including collaborative presentations with The Worcester Chorus, A Far Cry Chamber Orchestra, pianist Awadagin Pratt, and Pam Tanowitz Dance.
These anchor performances were greatly augmented by Dinnerstein's Bach-Packing To School program in five area elementary schools, lecture opportunities for college students and adults, recitals for individual school music programs, and masterclasses for Music Worcester's annual Young Artist Competition participants. 
Music Worcester's next Artist-in-Residence will be selected for the 2020-2021 Concert Season.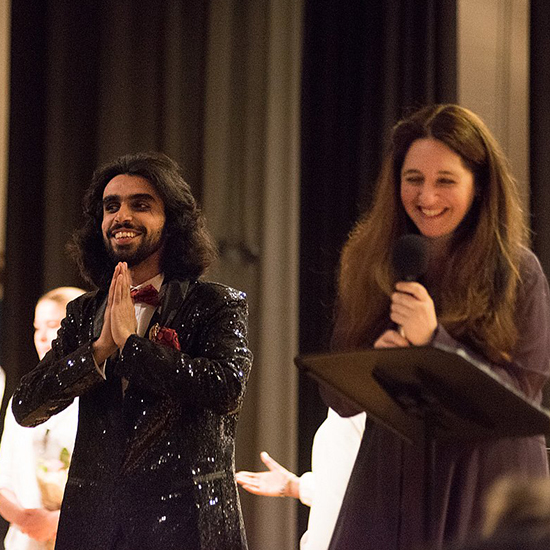 Simone Dinnerstein, Virginia Mason Vaughn, Chrysanthe Manuel and Adrien Finlay talk about the importance of the Artist-in-Residence program in 2018-2019.
Simone Dinnerstein, 2018-2019 Artist-In-Residence ...
I've always had a dream … to be able to work in multiple schools and return to them to develop relationships with certain classes and certain schools.  I think that everything Music Worcester is doing, not just with me, is about mking classical  music a vital part of life. And that's what it should be, not just a genteel afternoon out.  It's something that is giving us sustenance, in a way.