Afternoon @ The Park
Sunday, August 14, 2022 @ 2:00 pm

-

5:00 pm
CRISTOFORO COLOMBO PARK (East Park)
180 Shrewsbury St, Worcester, MA
This event is free and open to the public. General admission seating (outdoor) is available on the amphitheatre side of the stage.
Music Worcester thanks the following sponsors of this presentation:
ABOUT THE PROGRAM
Music Worcester is proud to conclude our 2022 Summer Concert Series with an outdoor concert at Worcester's East Park Amphitheatre, located on Shrewsbury Street.
From 2-5pm, attendees may enjoy live performances from three entertainers and their ensembles: Dan Gabel and the Abletones Dectet, Nacho Gonzalez Nappa, and Sunta Africa.
Admission is free for all ages and seating throughout the amphitheatre section of the park is open to all. East Park does offer limited parking in a small lot off of East Park Terrace, but ample on-street parking is available on Shrewsbury Street along the main entrance to the park. Patrons are encouraged to bring their own chairs or blankets for seating.
Click below to read more about each performer:
MEET DAN GABEL AND THE ABLETONES
Bandleader – Arranger – Trombonist – Historian – Educator
Hailed by the Boston Globe as "the real deal, [a bandleader] that looks and sounds like the 1940s." Dan Gabel is a trombonist, arranger, bandleader, historian, and educator. He formed his first band in the eighth grade, and has dedicated his life and career to promoting quality live music. Gabel leads several of his own musical groups, including Dan Gabel and The Abletones (authentic 18-piece Big Band), The High Society Orchestra (11-piece Hot Dance of the Roaring 20s), plus various smaller groups and a Brass Quintet. He has recorded and produced seven full-length albums, two video stage shows, and appears on countless other recordings. 
In 2017, Dan Gabel was chosen as the musical director of the Vaughn Monroe Orchestra, and created The Vaughn Monroe Show, a 24-piece production transporting audiences to the 1940s. A busy sideman, Gabel has toured internationally with the Glenn Miller Orchestra for over a year, as well as with the Tommy Dorsey, Cab Calloway, and Hal McIntyre Orchestras. He recently has been featured twice at the Montreal Jazz Festival, the Newport Mansions "Art Deco Festival," and as Music Director for several regional musicals. 
Considered an expert on jazz, big bands, and the Great American Songbook, Gabel has lectured at colleges, universities, radio programs, scholar programs, and special events across the country including at Harvard, MIT, Clark, and Indiana University. Since 2014 he has served as the President and CEO of the American Big Band Preservation Society. Dan Gabel holds two bachelor's degrees from UMass Amherst in Political Science and in Jazz History through BDIC (Bachelor's Degree with Individual Concentration) Commonwealth Honors College. He received a Masters Degree from New England Conservatory in trombone performance. 
As an educator, Gabel returned to his high school alma mater in 2014, and served six years as the Music Department Director at Holy Name High School until 2020. He also founded and directs the Jazz Program at Worcester Youth Orchestras, Inc. Dan Gabel is currently working on a biography and a musical on bandleader Vaughn Monroe. He and looks forward to a career of preserving, promoting, and performing music for audiences everywhere. 
When not on the bandstand, Dan loves traveling to National Parks, reading, and spending time with family and friends. You might find him on the golf course, bowling alley, in a book store, antique shop, museum, or anywhere where there are railroad tracks. An avid train fan like his father, Dan has travelled all over the country to watch trains. A highlight was taking his Dad out to Promontory Point, Utah to see the 150th Anniversary of the Golden Spike, and the Union Pacific RR 'Big Boy' steam locomotive in action.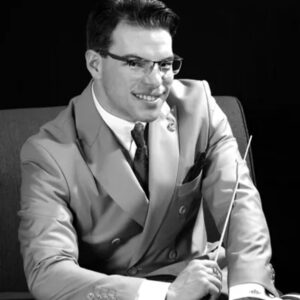 MEET NACHO GONZALEZ NAPPA
Nacho Gonzalez Nappa is an award-winning composer and producer, with a focus in film and video game. Recent scores include Queering, nominated to the prestigious South by South West SXSW Film Festival; Kingdom Rush Vengeance, considered one of the most popular mobile video games in the Apple Store in the US and China; Alexis Viera, documentary about the famous soccer player,  released in Netflix.
González Nappa has worked with artists like Alejandro Sanz, Carlos Vives, Jorge Drexler, Ruben Rada, among others. He also worked with some of the finest jazz musicians in the world, including multi Grammy winner John Patitucci, Oscar nominated Terence Blanchard, multi Grammy winner Omar Hakim -drummer for Madonna, Sting, Miles Davis, among others.
In 2016, he founded ulabmusic.com, a platform for emerging artists incubated inside media giant Univision. At U-Lab he produced more than 10 albums with some of the most talented up and coming artists from New York and Boston area, and he also produced digital series and documentaries, including "CUBA: Music Revolution", selected in the Madrid International Film Festival and Santa Barbara Film Festival.
González Nappa is also a journalist, worked for 4 years as literature reviewer, and worked 8 years in poverty reduction and social entrepreneurship in Latin America. He co-founded operations of techo.org in the US, and socialab.com
PODER Magazine named him one of the "TOP 20 under 40" Hispanics in the US. He has also received the Wayne Shorter Award, the Jazz Education Award –two of the most prestigious recognitions for young composers in the US, and some of his pieces have been premiered at Lincoln Center, by the big band of multi Grammy nominated Bobby Sanabria. Nacho González graduated from Universidad de Montevideo and Berklee College of Music.
​
MEET SUNTA AFRICA
Sunta Africa uses her music as a tool to inspire & empower women to love themselves & live from their spirit.
An ever evolving Soul singer-songwriter, growing up her home was always filled with multiple genres of music instilling her love of singing from a very early age. Throughout the many incantations of her songs, her message has always been positive.
Sunta now fronts her very own live ensemble, "The Sunta Africa Band" and continues to perform for numerous community events, festivals, and other live festivities.  
Sunta uses her music to spread love & help awaken the powerful feminine energy in women who have forgotten that they are Goddesses with work to do.
Dan Gabel & The Abletones
Related Events